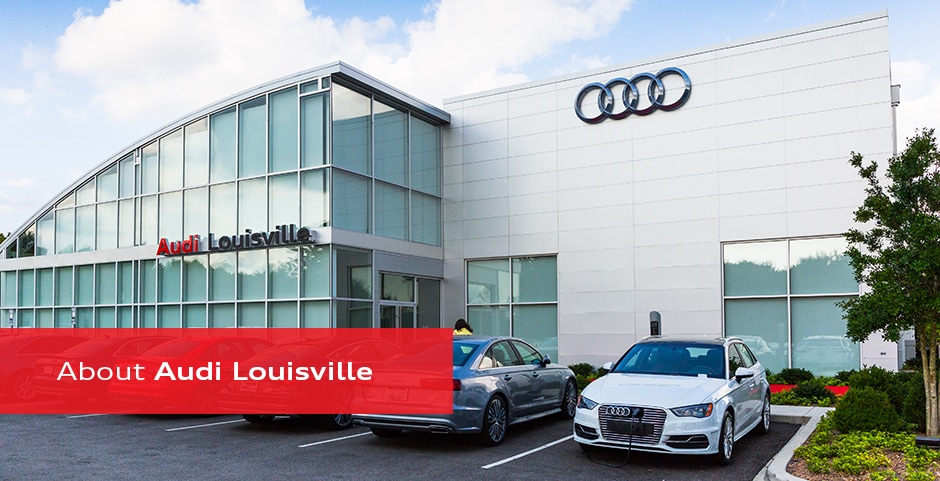 Audi Louisville opened in 1991 as part of the Blue Grass MOTORSPORT automotive group. Blue Grass MOTORSPORT has been in business for almost 50 years in the Louisville, Kentucky area.

Our business philosophy revolves around PURE - Personal. Unique. Response. Experience. This is what we strive to provide. We do not sell vehicles, we facilitate our client's selection of the car or SUV that's perfect for them. We strive to wrap our clients in a warm blanket with care.
We believe in the Audi product and our Audi team focuses exclusively on the Audi brand. They spend years driving each model allowing them to feel, hear, and see how Audi vehicles perform. They also have access to the newest product updates and knowledge database. So, whether you're shopping for a new Audi or have your vehicle in for service - you can rest assured our team stands apart from the crowd.
For the year ended in 2021, Audi Louisville has again been recognized with the prestigious Audi Magna Society Award. This is the 8th time in our history that we've been recognized for this award, held by only the pinnacle of Audi retailers in the United States. To qualify for this award, we have to meet rigorous customer service standards while obtaining our business objectives.
The Audi Magna Society was created by Audi to identify and recognize dealerships that go above and beyond just the standard business objectives and sales targets. We fully embrace the Audi brand and culture and want our customers to have a truly personal, unique, and responsible purchase experience.

Our Quattro Cafe will keep you comfortable while you're servicing your vehicle or visiting our showroom. We have a bar area with fresh, gourmet coffee, water & soft drinks, Wi-Fi, tv's, and a kids play area.

We feel it's important to give back to the communities in which we serve. We support a wide range of charities including: 
American Heart Association, Best Buddies, Kentucky Cabbage Patch Settlement, Children's Hospital Foundation, Fons Vitae Publishing and Distributions, Gilda's Club Louisville, Kentucky Children's Hospital, Kilgore Samaritan Counseling Center, Louisville Metro Police Foundation, Oldham Ahead, and Younger Woman's Club.
We also support the following organizations:
Actors Theater of Louisville, JB Speed Art Museum, Kentucky Country Day School, Kentucky Museum of Arts & Crafts, Kentucky Opera, Louisville Ballet, Louisville Collegiate School, Louisville Orchestra, Louisville Theological Presbyterian Seminary, Norton Healthcare Foundation, Second Presbyterian Church, The Temple, and University of Louisville - Cardinal Athletic Fund.
Blue Grass MOTORSPORT proudly sponsors the School Choice Scholarships organization serving low-income families with children in K-8 throughout the Louisville, Kentucky area.